Many brands are harnessing the power of social influencers, and reaping massive rewards. According to Tamba, a digital marketing agency, businesses are making, on average $6.50 for every dollar spent on influencer marketing. More than half of the marketers that Tamba surveyed said they benefited from deeper relationships with their customers after investing in influencer marketing. The same marketers said that influencer marketing has increased their conversion rates by at least 3X and by as much as 10X the average.
So here we've taken a look at four brands using influencer marketing and the results they've achieved using this tactic.
Ribena
The UK drinks brand wanted to connect with the much sought after millennial generation. It created a pop-up colouring café, partnering with the artist Alex Lucas, to attract fans and followers to come and interact with the brand. Tapping into the popular trend of adult-colouring books, visitors were asked to contribute to a 'colourful experience' by colouring in an illustrative wall tile. The Ribena marketing team took a three-pronged approach to using influencers to spread its message. They worked with Giovanna Fletcher, a high-profile TV personality and well-known vlogger (married to a singer in a boy band); recruited Confetti Crowd, a group of all-girl Instagrammers on a mission to support female empowerment; as well as worked with 30 additional micro-influencers on Instagram. Each influencer created content for the campaign and shared it with their audiences.
The results: According to Ribena's senior brand manager, Emmeline Purcell, who spoke at the recent Festival of Marketing event, the campaign generated 120 pieces of content, attracted 66,000 visitors to its site and the brand's perception score went up by 10%; they even attributed the 6% rise in sales of Ribena Light to the use of influencer marketing.
Birchbox
Birchbox, the beauty subscription service available in the UK and the US, teamed up with influencer and lifestyle blogger Emily Schuman, of Cupcakes and Cashmere, to curate one of its monthly beauty goody boxes last year. Birchbox and Schuman (who has 382,000 Instagram followers) both promoted their partnership by posting five Instagram images of their collaboration.
The results: Within days Birchbox received 18,000 likes and reached more than half a million additional consumers.
Gap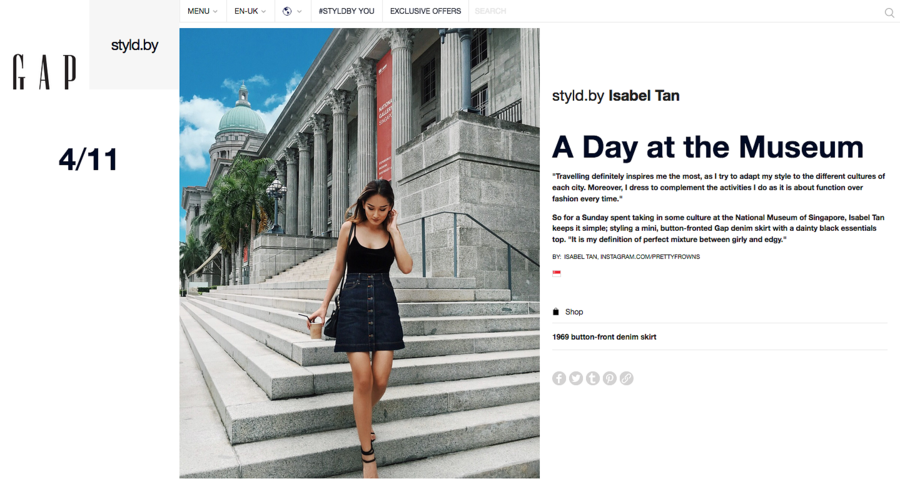 Gap, the high-street fashion retailer, has been using influencers for some time. It has teamed up with style bloggers to create its online fashion hub Styld.by. The site hosts blogs written, created and styled by high-profile fashion bloggers – such as Refinery29, Jamie Bauer, and Milli Midwood – who use and feature Gap's clothes in their articles. Gap also encourages fans to post their own content, known as user-generated content, in an area called #styldby.You. Customers of the brand are invited to post their images of their own looks/style on Instagram using the hashtag #styldby, which is then pulled in and repurposed on the fashion brand's hub.
Results: By partnering with bloggers and fashion influencers, Gap has been able to increase its reach exponentially. Just one of the fashion bloggers, Refinery29, has 969,000 Instagram followers that they're sharing their posts with on a regular basis.
L'Oréal Paris
L'Oréal Paris has signed up five British beauty bloggers to create content on an ongoing basis, according to Marketing Week. The brand's self-proclaimed 'beauty squad', which has a combined reach of 5.5 million, will be revealing the brand's latest products, creating "fun and engaging" and unique content as well as attend key beauty events including London Fashion Week, Paris Fashion Week and Cannes Film Festival, said L'Oréal's UK general manager Adrien Koskas.
He told Marketing Week that, "it was quite natural for us to move in this direction as consumers are really changing the way they interact with brands and are very engaged on social media. We wanted to have a special partnership with our influencers and use them to speak about the brand and create great content including new product development, how-to guides and tips. Often consumers are looking for this type of content online and we wanted to be the brand providing that to them."
The results: have yet to be known. L'Oreal is planning on playing the long game. Watch this space.