Reading the round-ups and predictions from content marketing experts from around the globe – we pick out five of the most commonly talked about content marketing trends for the future. What's for sure is that brands that think and act like publishers, use social on a more sophisticated level and create engaging content will stride ahead in 2014.
Create compelling content
With the rise of social and mobile users there is a growing need for more visual, consumable and entertaining content. Leading content marketing teams have ditched the traditional marketer and brochure-speak copy and have replaced them with journalists, writers and creatives from the media world to create their compelling content. Skype's Born Friends and Sainsbury's Christmas in a day YouTube videos are evidence that a good script, a qualified film-maker and great story telling are a winning combination for creating compelling content that people want to watch and share.
Make your content useful
Brands that stop talking about themselves and how great their products or services are will win the public's heart. Content should be truly useful. Brands that find a way to provide information, advice and assistance that their customers really need will receive the audience's trust, attention and custom. Leading US-based online cookware shop, Williams-Sonoma, is a great example of how to do this well. The carries great, original content – from its "Taste" blog with technique classes, cookie of the day recipes and how-to home tips – it's packed with useful information that doesn't require you to buy any of its products.
Become a publisher
Those in the know have predicted that brands will become publishers, will setup real newsrooms and start producing content like a publisher. Our Flockler platform will enable you to do just that. We help a range of brands to create, customize and publish social magazines, applications and websites that combine editorial, curated and social content. Take our recent collaboration with Random House Group to create The Happy Foodie the digital, social magazine. Its content is produced on a schedule, with regular slots such as news and features, video-logs from famous chefs and easy to use recipes. Content planning tools, like Divvy HQ, are essential to enable your team to think and act like a true publisher. The US-based Content Marketing Institute has published some very helpful tips on how to put together an editorial calendar.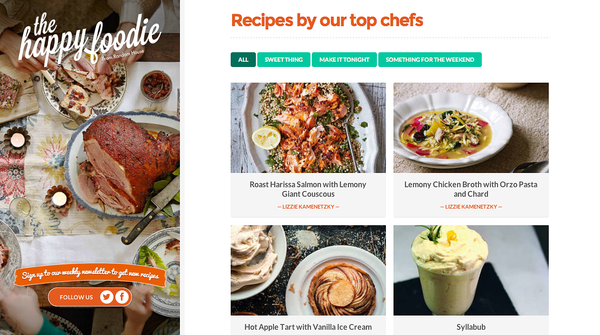 Personalise your content
Personalising your online content and social interactions will become easier and more common in 2014. Major retailers, such as the youth fashion brand ASOS see it as part of its strategy and future success. It uses clever technology that understands what users have searched for, saved for later, colour and size preferences and serves them up relevant offers and content. New, accessible and cost-effective personalisation tech is available from companies like Evergage so you can do this with your content too. Brands using social media 2014 will tailor their content for different audiences such as using geo-targeting tech. Twitter will lead the way to enable even the smaller brands to do this.
Socialise your content
Top US content marketing guru, Jay Baer, says that if "Content is fire. Social media is gasoline". He advises his clients to use social to drive awareness of their content not their company. In a recent blog he dispels many of the myths held about social media and content marketing. Ultimately social media is all about engaging with and rewarding your existing customers. It's about creating warmth for and recognition of your brand. It should not be seen as a bolt-on channel but an integral part of your content marketing campaign and the voice of your brand. The Virgin Atlantic Facebook campaign, launched in the summer of 2013, is an example of how to do social well. It asked its followers to create a virtual postcard of a destination they were going to or would like to go to. It had 2,700 fans take part – which led to Virgin's brand impressions being seen by more than a quarter of a million Facebook friends.