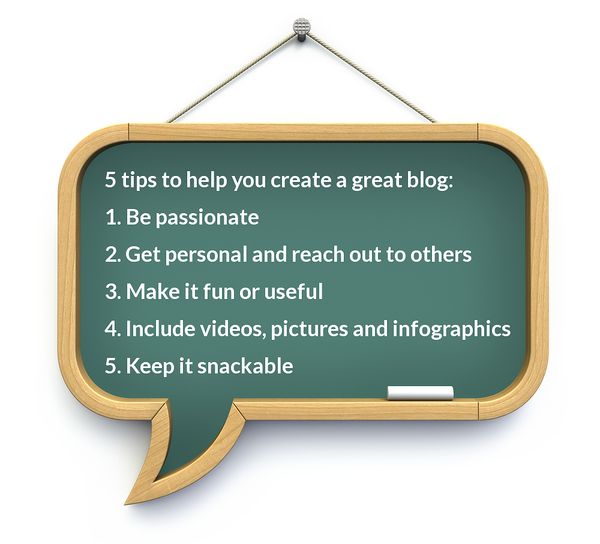 Creating original content and finding time to do it is a business' biggest challenge says US-based content marketing expert, Rebecca Lieb. But, as time consuming as it can be, it's worth it and something you can't avoid in a digital age. Last year a Hubspot report showed that companies who blog 15 times or more per month get 5 times more traffic than companies that don't blog at all. Even if you can't commit to blogging that frequently take heart. Hubspot said B2B companies that blog only one or two times per month generate 70% more leads than those that don't blog at all. 
So here we give you 5 tips on how you can go about creating a great blog:
1) Be passionate about what you do
Find the person within your team is the most passionate about your industry, products or service – and give them the task of blogging for your business. You'll find they'll have so much more to say and be far more creative than outsourcing to a PR/marketing agency. If you are worried that your industry isn't sexy enough to have a blog, don't be. "No topic or industry is too arcane for a blog", says Rebecca Lieb in her book, Content Marketing.  She cites a US-engineering company, Indium, that has no less than 73 different blogs – on soldering materials. Having that many blogs increased the firm's inbound leads by 600%.
2) Get personal & reach out to others
A good writer speaks from the heart. You need to tap into your inner dialogue and express your personality. People love people and are much more likely to relate to personal stories. So talk to your audience like you would your friend and forget all the grammatical barriers and rigid structures your English teacher taught you at school. If at first you find it hard to be yourself the second best thing to do is to interview people in your industry and get them to share their views and personal stories. Check out Dailytekk.com's recent post on the 100 best and most interesting blogs for inspiration on who's doing what.
3) Make it fun or useful
"Your content should either be an advantage to someone or be entertaining – if not, then it sucks," says newly converted content marketer, Kimmo Aroluoma from Finnish guitar shop, Custom Sounds. And he's right. People need a take away - something to remember you by. It keeps them coming back for more. You must never talk about how great your products or services are – but more about how you can help your reader become better, happier, richer etc. Check out this great DIY blog. It's no ordinary handyman guide - it has mini videos on everything from harvesting mushrooms to fashion inspiration – and a great guide on what you can achieve with your blog too.
4) Include videos, pictures & infographics
It's no secret that visuals, such as photos and videos are more likely to be shared than blocks of text. Mashable published some research from M Booth in a blog that showed of the top 10 brands on Facebook, users liked photos twice as often as text updates. They shared videos 12 times more than photo and text posts combined. And in 2012 Twitter carried more than 700 shared YouTube videos every minute. For ideas for your own videos and who's sharing what Econsultancy compiled 20 of the most shared videos from 2013 – what we like is that they're not all big brands with big budgets.
5) Keep it snackable
It's more than likely that your readers will be viewing your blog on the go. There are hundreds of stats out there showing that mobile and tablet use is on the up and those reaching out to the greatest numbers are serving up content that is brief, succinct and snackable.  The best way to do this is producing lists such as the "top 5", photos, inforgraphics and nothing too lengthy.  Your whitepaper should be dissected and the info within it should be drip fed or seeded out with links back to the full report. US-based culture blog Flavorwire does this brilliantly and the techniques it uses can be applied in the B2C & B2B marketing world