Facebook is still the major player in the social media world. With 1.23bn active users no other social network matches its prevalence and power. Despite having successful rivals such as Twitter, Pinterest and LinkedIn it's still the number one place where people connect and share online.
With this in mind many big brands have capitalised on this channel and created social marketing campaigns to engage with and grow their fan base. SMEs with a little time, imagination and know-how can emulate these marketing strategies to great effect too. Here are five ways how:
Content creation
All the best campaigns have tapped into the psyche of their audience and created content that is light-hearted, fun or interactive. Take the global super-brand Coca-Cola's campaign during the recent Sochi Olympics as an example. It hosted a contest called #CokeGames where it invented Olympic-inspired games such as Ice Cube Ski Jumping, Coke Curling and Bottle Cap Hockey and asked their followers to play along by filming and uploading short videos of them playing the games – all for a $100 gift card.
For a simpler approach Starbucks uses great imagery on its page. It regularly posts pictures that depict what its fans are likely to be feeling or what they're craving. A recent UK shot showed a notepad, camera, coffee and sandwich accompanying a post that said, 'A cosy spot to collect some thoughts' with the hashtag #ChangeofScenery. To date it has had 75,000 likes and nearly 1,000 comments.
Crowdsourcing
This is something the big brands do a lot and get a great response from. Skype, which posts multiple times a day, offers up a mix of invitations to chat, user tips and contests. But most of all it asks its fans for new features they'd like to see on their platform. Skype then posts which of these ideas are 'under consideration' on its communities page.
Small companies are using this tactic too. Café No.8 Bistro in York, regularly voted The Observer Food Magazine's best cheap eats award, earlier this year asked its fans for their opinion on a menu change. It posted "Yes/No Smoked parsnip, honey & halloumi tart tatin, roast Jerusalem artichoke risotto, parmesan and truffle foam". It had 28 likes and 24 written responses.
The 70/20/10 posting rule
This is a commonly followed Facebook marketing strategy in that 70% of your content should be about your brand and should provide information that is valuable to your followers; 20% should be content you've shared from other sources such research or events your endorse and the final 10% can be used for self-promotion – such as new products or discount offers.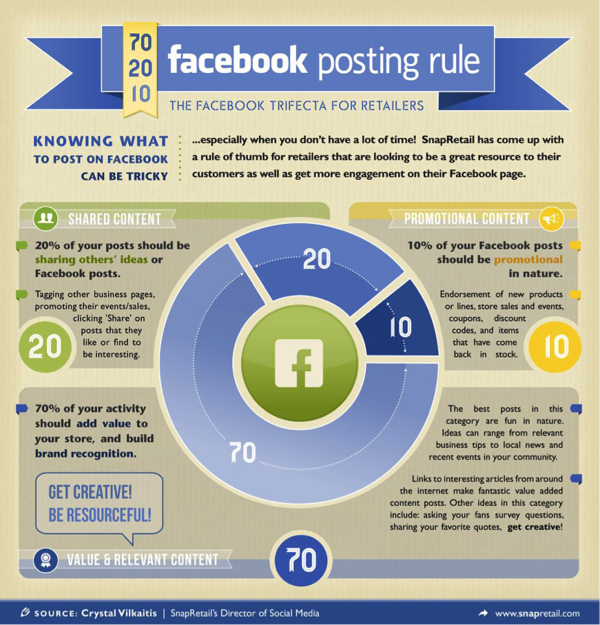 Customer service
Your brand page is your very public shop-window and meeting point for your fans. It's where you'll build a social relationship with your customers so it's important to respond and interact with followers – by answering their questions and responding to their complaints.  Remember you should tag people when you've responded to their inquiry to show them and their friends that you care and are actively trying to resolve an issue.
Responding publically to a complaint is also a great way of expressing your business' personality and showing its human side. The female hygiene brand, Bodyform, did just that in 2012 when it created a spoof YouTube video apologising to a disgruntled boyfriend after he posted a complaint about his girlfriend's periods on their Facebook page. He said he was angry that the company had "lied to us for all these years". The responding humorous video went viral with more than 5m views.
Timing of posts
Facebook posts achieve differing results according to the time of day they are posted showed a recent infographic. The optimum times to achieve a good reaction to a post are 10.30am and 7.30pm. Wednesday and Sunday were found to be the best days to get higher levels of engagement with posts too says the research. From the same survey it found brands that publish less frequently, such as a post every couple of days, were more successful than those that bombarded their brand page with content.
In a separate piece of research conducted last year of recognised and popular brands such as Starbucks, Amazon and Apple iTunes text and photo updates perform better than any other type of post. While it found Facebook users were happy to watch videos shared by their friends they were less likely to engage with branded videos unless it was part of a competition or exclusive preview.