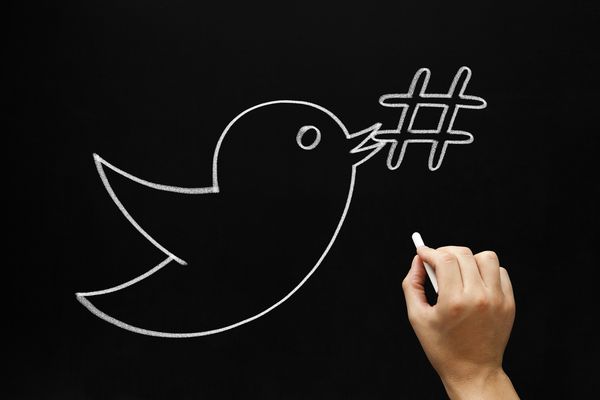 If you're a newcomer to Twitter one of the most important 'firsts' to learn is how to use the hashtag. Hashtags denote keywords or topics in Tweets and are made up of a single word or phrase starting with a "#" with no spaces or characters. They're also a way of searching for and categorizing topics trending on the social media channel. You can use one to start a conversation or to join an existing thread. Tweeting with the right hashtag on a particular topic/event allows you to instantly connect with not just your followers, but with everyone tuned to that event.
Brands that create hashtags that resonate with the public are rewarded with recognition, engagement and customer loyalty. And these hashtags can potentially take on a life of their own outside of the brand. Nike's #justdoit and #makeitcount have done just that. Their ubiquitous nature means they're relevant to a wide variety of people and activities and Tweeters are using them regardless of whether they are followers of the sports brand. Likewise the Water Is Life #firstworldproblems hashtag campaign, devised in 2012, captured the public's imagination and is still going strong on Twitter today.
A branded hashtag campaign can be a powerful way to drive engagement, increase sales or encourage awareness. Here are four examples of how they've worked in practice.
Engagement: #voicesave and #floridauncovered
The 5th season of the US TV-talent show The Voice recently won the Shorty Award for 'Best Use of Hashtag on Twitter' for its #voicesave campaign. This integrated social campaign asked followers to vote to save their favourite contestant using the #voicesave hashtag. Engagement levels were high even attracting celebrities like Christina Aguilera and Ellen DeGeneres to join in. It was the first time Twitter was used in this way on live television.
Virgin Holidays asked their customers to share their tips, images and videos on Florida using the #floridauncovered hashtag. Entries were gathered to social website powered by Flockler and YouTube video was created highlighting the best entries of the community.
Increased sales: #letsdolunch
Dominos Pizza UK is great at using timely social media campaigns and this hashtag is just one example of how the pizza chain capitalises on and engages with its large follower base. It ran a promotion on Twitter in 2012 to cut the price of the chain's Pepperoni Passion Pizza by one pence every time someone tweeted the hashtag #letsdolunch. After 85,000 tweets, the price dropped from £15.99 to £7.74, and Domino's offered that price from 11 a.m. to 3 p.m. that day.
Awareness: #HailYes
Launched in the back end of 2013 the #HailYes campaign was devised to raise awareness of and build public support for Nissan's custom-made New York cab, the NV200. The hashtag campaign was designed to engage the city's 600,000 passengers and get them talking about the new taxi – which features a USB charging facility, panoramic windows offering sky views of the city and improved leg room. To keep New Yorkers talking the agency that launched the campaign posed questions like: "Do you want a taxi with more room than your first apartment? RT #hailyes". This resonated with New Yorkers and garnered plenty of retweets and replies.
Inspired by these examples? Why not try and create your own. Here are tips on how to get started:
Make it short – it's easier to read and reuse. Long hashtags are easily misspelt and don't leave enough space for other Twitter users to say their own views.
Use a maximum of two hashtags per Tweet – anymore is overkill and reduces engagement.
No gaps – spaces are a no-no. If you want to distinguish words within it use capital letters.
Integrate it within a sentence – this gives it context and saves you space (so you can write more).
Make it self-explanatory – makes it easy to relate to and remember.
Don't duplicate – check that it's not already in use before launching a campaign around your chosen hashtag (use a tool like Twitalyzer to search).
Use it like a good headline - it should make you think of something that's emotional and make you want to do something with it.
Don't use punctuation marks or any other characters. Remember that the @ symbol does something completely different.
Monitor the impact and reach your hashtag has with a tool like Hashtagify.me.