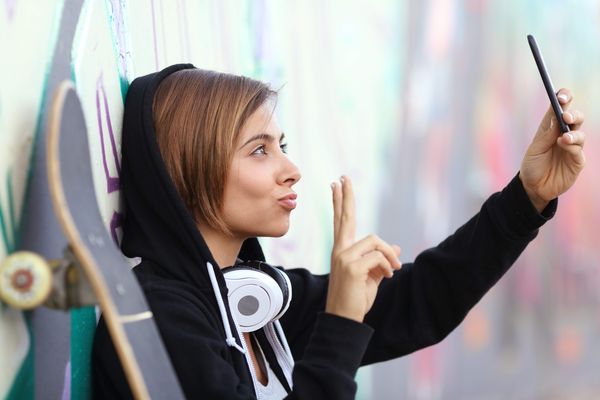 Vlogging, or video-blogging, is the new "selfie" and it is the latest craze to be adopted by the narcissist millennial generation. These (mainly) young vloggers have hit Google's YouTube with a storm - many of them clocking up hundreds of thousands, if not millions, of followers as they vlog about their daily lives. For the lucky few, they've given up their day job - swapping the office for their bedroom or newly-purchased flat (bought from the profits made from vlogging).
The vloggers may be young, but they're not to be dismissed. YouTube has allowed them to become internet sensations – with many incorporating a lucrative sideline of product mentions/placements or showing ads before their videos start - alongside their passion for telling the world all about themselves. The business-minded vloggers have carefully carved out a niche for themselves – be it talking about all things beauty and make-up, video games or cooking – and have regular viewers tuning in and hanging on to every word they have to say (& buying the products they mention too).
These young entrepreneurs have not just caught the attention of regular teenagers but big brands too – many of which are falling over themselves to associate their products with a successful YouTube influencer. And little wonder as some, such as British beauty vlogger Zoella, have more than 4 million regular subscribers. It has been reported that a product mention from the likes of her can send sales soaring. In fact, when Zoella appeared on the front cover of Company magazine this year, its web traffic rose by a reported 87%. The Google hangout with her on the day the issue went on sale had 20,000 live views (which the magazine said in an interview with the Observer was more than they had when they showed a behind-the-scenes video of pop princess Jessie J).
This is all very well and good but getting in on the act, if you're not a corporate brand with marketing budgets to boot, is a tricky thing to do. (Brands pay upwards of £5,000 to have their products mentioned by one of the many YouTube influencers and a collaboration with one can cost in excess of £20,000). However, with a bit of gumption and vlogging know-how you too can create your own vlog and use it as part of your digital marketing strategy. Here we give you ideas on how to start, the equipment you'll need and tips from the vloggers themselves.
How to start vlogging
Like with a written blog, before you do anything you need to work out what you want to say, the persona you're going to create (e.g. quirky, funny, serious, factual) and who your audience will be. You'll need to create an editorial calendar (can be as simple as using a dedicated note book or more complex such as using an online system like Evernote). Here you should jot down ideas, titles of vlogs, outlines of what you want to talk about so it's not just a ramble or stream of consciousness.
Key to successful vlogging
The more ordinary, the more intimate you are, the more popular you'll be. The success of the vloggers is down to their accessibility - they vlog in a non-threatening way and aren't afraid to show a warts 'n' all snapshot of their lives. This includes not editing out mistakes from their video monologues, sharing personal information (like thoughts on relationships) and offering their viewers the chance to ask them any questions whilst they're on air or via social media. For many who tune in to watch them these vloggers are like their friends and confidants.
Promoting content via social
All the successful vloggers use social channels to reach out to fans and promote their content on. They especially use Instagram to document all the fun times they're having when they're not sat in front of a video camera… They use Facebook posts to push content & tweets to keep their fans up to the minute with their movements.
Equipment you'll need
What you need depends on what you want to do. If you're going for lifestyle "here's what I do in my everyday life" type vlog, you can use something as simple as the iPhone or the Android equivalent and start filming yourself. But the audio & video quality may be pretty poor once it's uploaded on to YouTube. The next step up would be a handheld point & shoot video camera. Audio & video quality is better but you'll have lighting and colour issues (things may get brighter or darker depending on where you're shooting). Most vloggers have some form of DSLR camera that can sit on a tripod (start around £400) – this is great for face to camera style vlogging. But if you want to do action shots you'll need a camera with an automatic zoom. Whichever you use you'll need to supplement the mic with something like a Rode video microphone – which enhances the sound quality considerably. If you're going to be really daring and do stunts, extreme sports or activities outside you'll need a GoPro camera (that attaches to helmets etc) – they're made for that kind of thing.
Editing software packages to use
Once you've created the content and got your video footage – you'll need to edit it – such as adding in titles, fades, text options, music etc. And for that you'll need some software. What you get will depend on whether you're a PC or Mac user.  The likes of Cyberlink Power Director – offer different levels of packages from entry to director level  starting from £50 per month. Packages like these make loading and editing high definition video footage online easy.  If you're on a Mac– using iMovie works just as well (it has less features than the above). Another option for Mac is Adobe Premier Pro – which you pay for on a monthly subscription package (offers a free month's trial).
Successful British vloggers share their tips
The most successful  vloggers were interviewed by the BBC's Newsbeat team and here's what they had to say:
Zoella says: "Include your mistakes because it shows a lot of your personality."
Lily Pebbles says: "Do what you'd like to see on a blog or YouTube channel."
Vivianna Does Make Up says: "Be unique, try and do & say things that have never been done before."
Alfie Deyes from The Pointless Blog says: "Have fun. The more fun you have the more your viewers will have."
Fleur from Fleur DeForce says: "Be consistent with your uploads so your subscribers know when to expect new content."
Also read: Five ways to create videos for free