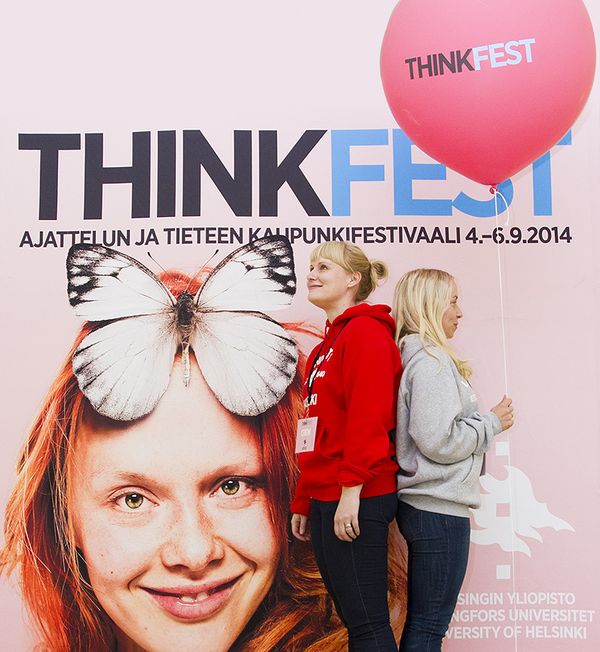 Digital is revolutionizing how we communicate: Helsinki University tells Flockler how it is adapting
The digital revolution is radically changing the way we communicate and has given power to the people. The democratization of information and sharing of ideas online is challenging the role of established institutions and is altering the way they in turn communicate with their stakeholders.  A traditional top-down "us and them" approach is being replaced by open dialogue and a genuine engagement with the wider community.  Helsinki University's communications and community relations officers Riitta-Ilona Hurmerinta and Johanna Mäenpää tell us how digital has transformed the way they reach out to the public. In an exclusive interview we find out what they're doing differently.
How is the digital revolution changing the way you communicate with your community? It has offered us new ways to communicate with the community. It's enabled us to have a genuine dialog with our community and given the public easier access to the University. Digital has given us new tools to get feedback, new ideas and to have a conversation with our audience. It has made the university more approachable and allowed it to be more present within the wider society.
How does this differ from the techniques you've used in the past? Our communication model has transformed from being a slightly passive information distributor towards becoming an active conversationalist. 
And how have your teams had to adapt to this new way? Our biggest challenge has been to give individuals within our organization 'voices' rather than us communicating purely as one organization or voice. We know our audiences are interested in individuals, people, scientists and stories rather than the University as an organization. This has been a big change and has required us to learn new ways of storytelling, working together and developing new communication strategies.
Your communication model has moved away from sending out/publishing fact-based press releases on your website to that of a more human approach on social – can you explain how and why you have made this move? The University's communication models are changing because of the role of the University is changing. It's moving from being a sole scientific authority towards taking active part in society. We've created dialogue with different audiences, for example we've offered scientific information to politicians to help them make efficient political decisions, and moved to working together with corporate partners. Press releases are still being written, and are needed, but the new way of communicating requires us to create talking points within our community.
You recently created two 'talking points' as part of your 375th year anniversary – ThinkFest and 375 Humanists.  Please can you tell us how digital, using the Flockler platform, changed the way you 'talked' with your audience? We launched Thinkfest, an urban festival of thought and science, with the aim of engaging the public. We wanted them to experience science in a new way. During the science festival pilot, which ran in September 2014, we encouraged our students, staff, performers and event audiences to use a #thinkfesthy hashtag to post pictures and other content on social. We were able to use those stories (the Flockler platform automatically 'pulled in' content that carried the pre-programmed hashtag) to promote what was going on.  For example we got a lot of positive content and feedback on social as a result of our 'science saunas' (the public were invited to take saunas with key thinkers and academics to discuss key issues in the field). We were able to create stories from those posts and will be able to reuse that content when we come to market the event again this year. The Flockler platform enabled us to give our audiences a voice and them the power to give feedback to us. It helped them to create authentic content for us.
For the 375 Humanists project, where each day a leading light from within the humanities field is profiled, we wanted a site that was mind-blowing – something that people have not seen in a university context. The Faculty of Arts' current website is old fashioned. And what we wanted was a website that could easily contain text, pictures, videos, web links and content from social media channels. This is something that the current Faculty (or the whole University) web pages could not provide but the Flockler platform could (without having to rebuild the whole site). We used traditional channels, such as our website and intranet, alongside social (Facebook and Twitter) to invite people to nominate candidates from past or present or those up and coming with a connection to the Faculty of Arts. During the autumn of 2014 we received over 200 proposals from in and outside of the University.
We wanted the new 375 Humanists website to promote Faculty and humanities as a field both nationally and internationally. In addition to promoting its research, we wanted it to support the Faculty's students, staff and alumni.  At the same time, we wanted to make our academic experts more accessible. The Flockler platform has enabled us to do that. After the first nine weeks of using it, and 63 Humanists presented, the reaction to it has been: "Amazing project", "Very useful and needed", "Looking great", "Great to have an Advent Calendar for the whole year 2015". We've also achieved excellent results on our social media channels, especially on the Faculty's Facebook and Twitter accounts – where we post content about the "Humanist of the Day". The numbers of "seen", "shares", "likes", "favoured", "retweeted" are very impressive and it would not have been possible without the Flockler platform.
How has the Flockler platform opened up new ways to communicate with your community/audience? Flockler has enabled us to communicate and reach new audiences which all have not been interested in our other communication channels (such as our newsletters or website). We have also been able to activate students, and even potential students, to volunteer in our festival events. Flockler has also enabled us to attract new audiences interested in more profound journalistic content rather than traditional web news/ science news articles.
Why did you choose to work with Flockler? What's unique about the platform – what does it allow you to do?  The old University website doesn´t offer us the possibilities to connect and use social media content in our communication. We chose Flockler because of its great design and it allowed us to create content in collaboration with our community. The platform helped us activate our community to create social content and dialogue. We've used it to promote very different projects (from the science festival Thinkfest, 375 Humanists Project to the science-based competition Helsinki Challenge) and it has been very flexible in the way it has enabled us to meet the challenges and demands of all these different events.