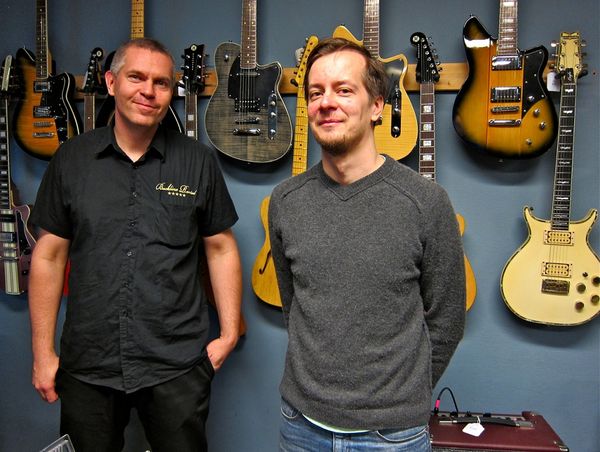 Content marketing really works, even on a small budget. We interviewed the entrepreneur and owner of Finnish guitar shop, Custom Sounds, to find out more.
The small, niche guitar-lovers shop, Custom Sounds in Helsinki, is proof that content marketing really works. Talking to its co-owner and entrepreneur, Kimmo Aroluoma, it's refreshing to hear that even on a small budget and a good deal of enthusiasm it's a powerful and effective digital tool for SMEs.
He and his co-founder took the brave step of launching a digital magazine in June 2013. Kimmo reprioritised his time and concentrated his efforts on feeding the editorial demands that such a content marketing tool needs.
Here he talks to Flockler about his decision to launch "Backstage", what it has done to boost engagement with the guitar community and how it has ultimately led to more sales both in his shop and on his online store.
Tell me a bit about yourself and Custom Sounds.
I've been living and breathing music all my life. Before founding and rebuilding Custom Sounds I was working as guitar technician for the most famous Finnish bands such as The Rasmus, HIM and Michael Monroe. My partner Jani Marjoniemi (also a music professional) and I took over Custom Sounds (originally founded in 1996) in autumn 2012.
What was the idea behind launching Backstage magazine?
I had wanted to write a book for sometime and I'd already got a publishing contract from a Finnish publisher. But I realised that people who came to our shop really wanted to know more about the industry. So I started writing for our website once a month from January 2013, and then launched Backstage magazine on the Flockler platform in June 2013.
Did you know you were doing content marketing? Or was "Backstage" born out of a passion to write about the music industry?
I started it for the love of the music. I really believe the content has got to come from your heart. You have to be passionate about what you do. You cannot write about your products because that's just marketing. If you do content marketing – you have to write about things that inspire you, things you love and some topics that are even barely related to your business. I recently wrote a huge article about cables and the history of them and we were surprised to see people started ordering more from our online store. What I've noticed is the more passion you have, the more interested you are in the subject the more people will support your store.
How did you know what kind of articles to publish on Backstage?
I realised quite early on that I had to change the subject matter each week. I went to the library and read every magazine there was. I then came up with an idea of having categories that I rotate each week. There has to be something for everybody. So we cover news – anything that happens that inspires us from a music fair, new device or good show. We publish one "tutorial" per month – for example on how to do something technical. We have one piece from something going on in the field. Plus I write a column which I try to be as much like a journalist as I can. We've also introduced mini videos as I'm not always inspired to write.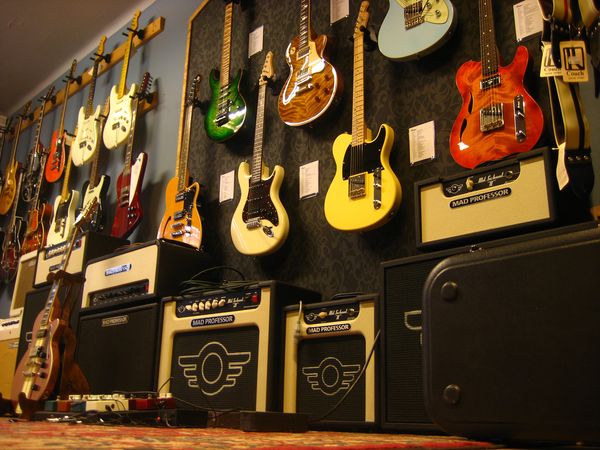 What makes your blogs and videos successful?
I believe content should not be commercial or contrived. I try to make all my articles as informal as possible. It's about creating content that people can relate to, identify with or something they have a personal connection to. So it has to come from you. You have to feel it when you write. If you think too much then it's not going to work.
You've recently starting creating & publishing more videos. Can anyone make them?
Yes, anyone can make them! No matter what, don't think about the technology. Just do it. If you think too much you'd never do it. We started with a small video camera. There was noise in the background. It was crap, but people still watched it. Then I learnt how to use i-Movie and how to drag a logo into the front and back. Eventually we started to do two or more takes, I even wrote a small script. Then a customer, who happened to have a video company, was brought in to help. He taught me about the process of video making. I bought an editing package that cost 300 euros. I bought another digital recorder and microphone. And now the quality is so much better.
How do you distribute Backstage?
We originally compiled a list of emails from everyone we knew who was related to music into Mailchimp. That was a total of 2,800 people. We then started sending Backstage out to them once a month. We also add links to it on our Facebook page, plus we advertise it in a few good musician forums too.  We now invite our customers to subscribe to our magazine both in store and on our online shop.
Is your strategy about nurturing existing customers or attracting new ones?
It's both. But we are focused on getting the new customers in. The funny thing is that they think we are giving them something for free - which is the whole idea of content marketing. When you do it properly, and it comes from the heart, it surpasses a person's natural resistor to marketing. Readers don't necessarily buy anything from our shop straight away. But we are now in their minds.
What has happened to your revenue and online traffic since launching Backstage?
We've been on a steady growth since launching the magazine in June 2013. Also the amount of people who come from Backstage to our webshop is going up all the time – our web traffic to our ecommerce site has also doubled. We can identify which articles drew people to our webshop but once they are on site we don't know what they do. But what we do know is that our webshop is selling more and more every month and our customer's purchase rates are steadily are going up.
Do you have more customers coming into your shop?
Yes! And now when people come in to the shop they recognise me from my videos. They don't say anything to me initially. But when they come to pay they always say: "Hey, I love your articles". It's been really fun.
How has your engagement with your customers & readers changed since launching Backstage?
It has really created a lot of positive energy in our shop and on our online community. We've had some great feedback from those reading our articles. They say to us it's great stuff – what a great place we've got. We believe we are creating a good atmosphere. We now receive more emails that I answer personally and we've noticed that people order as a result.
Have you made any mistakes that you've learnt from?
Yes! It's mainly me that writes and produces the content. I now have another content creator writing for us.  I use his copy when I get writer's block, I need a rest or am sick so I have something to release. But recently I had a "great idea" to have a community of writers for Backstage. It turned out to be catastrophic. Before we used other writers our hit rates were brilliant – one article I wrote had 10,000 readers. But when we introduced the new writers – people almost wrote me hate mail saying they didn't like them! So I realised I had to write it for myself and I have won back my audience.
Why does content marketing work?
Content marketing is bigger than I realised. It somehow surpasses a person's shield or whatever they'd have towards normal marketing. It takes people from the side, they don't really realise what is happening and they end up buying. It's also about building trust with your audience. People recognise you and say, "hey that's the guy who…" "he's the one who puts his face to…" "he must know. I'll go there." Customers like us because we're not a faceless shop. We put ourselves out there and say we're real people, you can trust us. Plus now when you type "guitars" or something similar into Google you see our site high up the organic list.
Tips on how SMEs can be successful at content marketing too, by Kimmo Aroluoma:
Your content should either be an advantage to someone or be entertaining – if not, then it sucks. The reason I started to write was because I got sick and tired of all the magazines promoting stuff.
Segment your content for each target group. Your content should make them better at what they do. There has to be something they can take away.
Don't talk about your products. Talk about solving your customer's problems. Give them solutions. Try to find a problem that someone is experiencing and give them a solution to it.
Your content should tell a story. It should have a time, a place and be about people. People remember stories – it's something they can relate to.
Do your research. Before you start writing read three or four books on how to write a good blog.
When you write you have to feel it in yourself. You have to laugh, cry or be excited – when you feel these emotions – someone reading will feel them as well.
Keep reading articles, novels and text that stretches your mind. If you just read Facebook updates – you'll only write in that way.
Have a perspective on your topic. The reader is really interested in your point of view. If you don't have a perspective you don't have anything. It's like a sword without a blade.
Your content should have revenue logic – because no one has time to write for the sake of it. It must have a purpose. If you don't, it's impossible to do something like this.
Finally, write about things you truly love and do it from your heart.
* Backstage magazine (in Finnish) is available here. An English edition of Backstage will be launching in the spring.