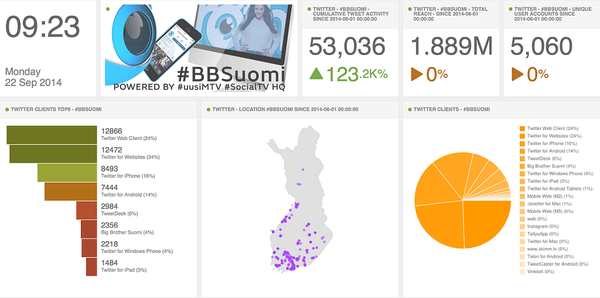 MTV, Finland's market leading broadcaster and hosts of Endemol's long running reality TV show Big Brother, is pioneering the use of social media to enhance viewer engagement. Using Flockler's technology and expertise it is featuring Big Brother tweets in the 2nd Screen service, running social TV and banner ads featuring Big Brother tweets, broadcasting social content on big display screens in shopping centres and on the streets in Helsinki, embedding Instagram images and tweets from fans on its MTV.fi site as well as enabling its viewers to follow discussions had on social channels whilst watching the show 24/7 on the web. Alongside this it has invited core fans to become special reporters to create and publish unique content for its Big Brother website.
MTV's executive producer, Mari Rasimus (@mariras), talks to Flockler about how social media is changing TV, how social gives power to the audience and why media companies are being forced to change from within.
How is social changing TV?
Social media is making TV programs more democratic. It brings the audience, the TV stars and broadcasters closer together and allows them to communicate with each other in real time. This is something that's never happened before.
What social channels do you use to engage Big Brother's viewers and how successful are they?
Big Brother is known as the social media TV king in Finland. Right from the beginning (10 years ago) audience engagement has been a really big part of the show. Back then it was discussion forums. But since 2008 we've been using social on many different channels.  We've now got 120,000 fans on Facebook with a reach of up to 600,000 people per week. On Twitter we've got 27,000 followers. The latest show has been running for a month and we've already had 87,000 tweets with the #bbsuomi hashtag with a reach into the hundreds of thousands.
What's different about social this year?
The thing that is very different from last year, where we started building and producing social channels at the start of the show, is that we built a social community before the season started and made it part of the launch campaign. This year's launch episode was the second most successful in terms of viewing numbers with 641,000 tuning in (out of 5 million Finns!). Considering it's the 10th season and an old format that's an accomplishment in itself.
How are you using social to enhance viewer engagement?
We've established fan reporters and tweeters and carry their content on our website. We've brought these fans into production's inner circle – they are now able to visit the BB house and we're in contact with them all the time.  We also have been incorporating the content that our viewers are producing, such as tweets, Instagram pictures, on air and in real time. We are constantly trying to create new ways for our viewers to influence the show's content. We recently ran a special Big Brother 10th year anniversary show. We gave the audience the chance to select which old housemate (from previous shows) would visit the house during the live show. They were given five hashtag options. All they had to do was tweet their favourite two. It was a simple way for them to influence us and for us engage with them.
Does social enhance a viewer's watching experience?
It can actually provide an extra level of entertainment on top of the TV show. The viewers are now able to interact and communicate with anyone in the world about the show and have their opinions broadcasted in real time, that's the new thing. Social TV is one of the reasons why watching live TV is still so strong – because people cannot miss the show when it comes on air or else they would miss the conversation. It's part of the draw.  
Is social media driving revenue for media companies?
Yes, it increases interaction and gets more people watching TV.  We're trying to capitalise on this so we've been creating new products for our advertisers – so that they can be part of the social media buzz. There are different ways to do it but for example, with Strictly Come Dancing, we have an advertising partner where we've collaborated to create a commercial hashtag that people can use to engage with during the show. This gives the audience the chance to win prizes etc.
How are TV companies adapting to incorporate social?
Media companies are being forced to change from within. There is a greater need for multitalented people – who understand the traditional ways of storytelling on TV and on the web as well as skills related to social media channels i.e. how to engage people and build communities, how to make content go viral and also how to use the technology. This applies to the sales department too – they need to understand old and new channels as they are now selling multi channel platforms to our advertisers. This requires a lot of education. We can't just get new resources so we need to educate the people who are here to produce and create new things.