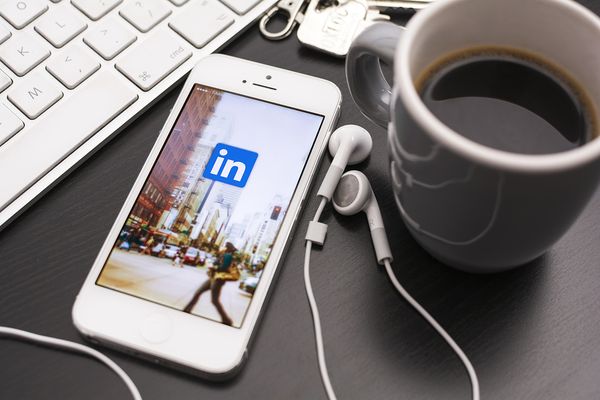 LinkedIn is primarily a great tool for B2B content marketers as it's the main social platform where professionals and key decision makers go (there are more than 259 million members registered in more than 200 countries and a recorded 142 million unique visitors per month). That's not to say that it can't be used by B2C content marketers but 62% of those who use it for B2B marketing think it is really effective, according to research from the Content Marketing Institute.
The main reason why LinkedIn is so effective, over other social platforms like Facebook, is because when executives are on it – they are in work mode and so are business-focused. Also LinkedIn is great at segmenting users into groups based on industry, job seniority, location etc which means you can run highly targeted campaigns.
But more importantly for content marketers it's now the key place to get your content discovered and shared as LinkedIn moves into more of a content distribution platform (it now gets six times more engagement through content than it does through job searches) and an editorial channel.
Here we've created some simple steps for you to follow to maximise your content's presence on LinkedIn. Plus given you two examples of brands getting high levels of engagement on this business-focused social platform.
Step 1: Create exclusive, original content:
Don't cross pollinate or regurgitate existing content. Create specific content for your audience here. People want to see something different and relevant to their needs. Remember people are in 'work & search' modes on this channel so create content that is valuable, snackable and easy to consume. This will make them more likely to read and share with their connections and networks.
Think of short, snappy headlines and include a picture, chart, video or link to a Slideshare powerpoint presentation. Remember to keep your content useful, valuable to people in your industry and varied from the last post you created.
Step 2: Create a Company page:
If you've not done so already then creating a company page will allow you to produce targeted status updates, customize content for specific audiences and build a community around your brand. The biggest benefit for content marketer is this is the best place to not only share your company news updates and events, but your specially created content.
Showcase pages: recently launched at the end of 2013 – these allow you to segment your messages according to your target audience. Your main company page will be the central messaging hub, but the Showcase pages allow you to segment your content by your product or your service. This makes it a more relevant experience for your followers.
Step 3: Join Groups:
There are a variety of industry-specific groups within LinkedIn that you can join. They are all engaging, sharing tips, ideas and talking about relevant news and content from your field. This is where the action is, and where you need to get involved. Initially join and monitor the conversations being had before adding your comments and sharing links to your content. Remember to make sure everything you say and share is relevant and helpful to this group. It's a big no, no to talk about how great your products and services are here. Try using Joe Pulizzi's 4-1-1 rule: share other people's content more often that you promote your own stuff.
Step 4: LinkedIn Today trends:
This is the place where daily news is tailored to your professional social network. The aim of every content creator is to have their blog/whitepaper/slideshare presentation shared here. LinkedIn Today editors collate and showcase the most popular articles being shared, liked and commented on by fellow members from within LinkedIn and from a variety of external sites and blogs. It will only trend content that has been published that day.
So the idea here is – the larger your following, the greater engagement you have with your followers, the more chance you'll have your content featured. There are five ways you can max your presence. Firstly, you need to post your piece on your status update feed (via LinkedIn share button or manually pasting a link into your status area). Secondly, post your content within a relevant Group discussion. Thirdly, you can send a message out to highly connected individuals within your network in the hope they will share it. Fourthly, have your employees share the content with their networks. Finally you can reach out to publisher@linkedin.com.
Step 5: Pay to promote your content
If all else fails and the organic methods are not working for you or are taking longer than you want you can fast-track your content into the relevant audiences news feeds and groups by paying LinkedIn.
Sponsored updates: Introduced in the middle of 2013, and operates in the same way as Facebook's promoted posts,  you can now pay to see your posts appear in the news feeds of members outside of your company page following. You can target your messages based on location, company, job title, skills, gender and age. LinkedIn charges on a cost per click (CPC) or cost per 1,000 impressions (CPM). You'll be given access to your own metrics to measure and analyse the effectiveness of each paid-for campaign.
Step 6: Listen, Measure & Learn
LinkedIn has its own analytics program which every company page administrator can access. From here you can judge the level of engagement had with your content – numbers of people who've seen your updates, who's shared your content and what was most popular. It measures the number of interactions, clicks and followers gained. Plus gives you a snapshot of who your followers are (based on age, job titles, location etc) so you can further tailor your content to suit these profiles.
Two great examples of brands using LinkedIn effectively:
B2B: Computer giant HP uses LinkedIn to target small businesses through its Business Answers page, where firms can discuss areas of interest such as tax. HP research showed that more and more small businesses are turning to social media for peer-to-peer advice. It launched the hub two years ago and now has more than 9,000 members. As a result its LinkedIn members are 20% more likely to recommend HP products than the average population.
B2C: Samsung launched its Galaxy Note 2 "phablet" (a mobile phone of near-tablet size) last year using LinkedIn to promote it. It invited visitors to its microsite to sign in with their LinkedIn membership profiles. People were then encouraged to share their thoughts about the phablet with their LinkedIn connections. This enabled Samsung to reach a global audience of 20 million people.