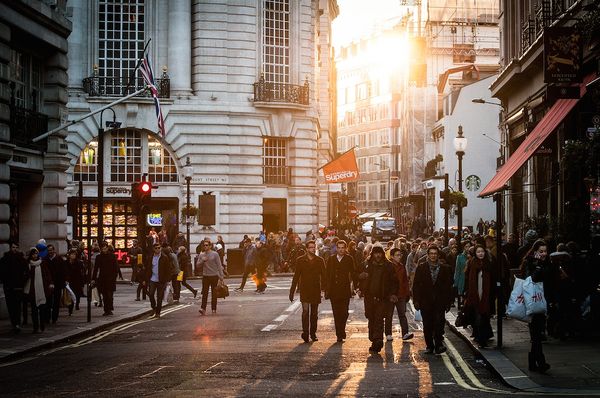 Content marketers can learn a lot from the upmarket clothing boutique and the trendy high street coffee shop. From their customer service techniques, the way they entice customers in, make them feel special and how they reward them for their loyalty. The Open University's Jessica Evans, from the department of Sociology, highlights the tricks of the retail trade in her 'shopping carousel' and explains why shoppers keep coming back for more (and love spending too). Digital marketers can learn from this skill and apply it in their everyday practice. Here we explain how:
1 Personalised assistance
When you enter high-end clothing boutiques, so says Evans, customers are often greeted by an assistant. She or he will be trained to be almost as interested in sourcing an elusive item as much as their customer is. They will demonstrate their knowledge of the clothes, how they reflect current trends or represent an innovation in the shop's own clothing line. The sole purpose of the assistant is to build and foster a direct relationship with that customer. They will make it their business to problem solve and will invest their time in their customer's decision making (which they hope will eventually lead to a sale).
In a digital world:
Your blog needs to be the personal assistant in your world. It should host how-to explainers, everything you need to know articles, current industry trends and advice on the best quality services or items. Your website should have an element of personalisation too – which can be provided by the likes of Maxymiser or Marketo. Installing live-chat software, where you can talk to your customers in real time when they enter your site, can also boost your customer engagement, keep them on your site for longer and even convert more sales as a result.
Mobile giant, Vodafone, uses tech from liveperson.com, to deliver its Live Help service where an actual person is online, in real time, responding to their customers' questions. Other large companies, such as Yorkshire Water, are using real-time chat, even smaller companies like the business card maker, Moo.com are at it too (it uses LiveChatInc.com). The tech is easy to install – you only need a piece of code and a subscription to a service to make it happen on your site. And research suggests you can watch your conversion rates rocket by as much as 20%.
2 Displays and decor
The high street boutique – its layout, lighting, use of furniture and display methods – aims to create a distinct image and personality which their customer can identify with, says Evans. Boutiques strive for a feeling of spaciousness; plus they personally select items of clothing for display to demonstrate they understand what their customers are looking for. In contrast the cluttered 'pile them high' approach of the larger chains, which have aisles of densely packed clothing, aim to emphasise their huge quantity and choice of styles to suit different kinds of people.
In a digital world:
Your landing page is your shop floor. It needs to be de-cluttered and spacious. Streamline it to include large, eye catching photos that will draw your customer in. Remove lots of text, boxes, sale slogans and images as busy pages boggle the mind and can put customers off.
A user's decision to stay on a website is made in a matter of seconds, so your brand's image (reflected in your landing page's design) needs to showcase your personality and draw potential customers in. The images and links you display on your landing pages need to be hand-picked to show you already understand what your users are looking for. Your blog needs to move away from trying to be something for everyone and stay focused on your area of expertise.
3 Rewarding loyalty
High street coffee shops have honed the art of rewarding loyalty according to Evans. Many have a paper 'card' system that a cashier stamps every time a customer makes a purchase - with the incentive of giving away a free cake or coffee after collecting a certain number of stamps. Others, like Starbucks, have a mobile/electronic system, which is a bit like a club. To belong, the customer needs to provide their email address, name & age etc – in exchange for money off deals. The coffee chain uses this customer's data to gain an insight into their  behaviour and then tailors the rewards they offer. This demonstrates to their customers that they understand them and gives them an incentive to come back again soon.
In a digital world:
Rewarding loyalty is essential in a crowded online world. Fashion retailer Asos recognised this early this year as it introduced a 'points means pounds' reward system (akin to Boots' Advantage Card). Other online fashion retailers, like Boden, rewards their loyal subscribers to their emails by giving them first access to their flash sales, where items, in some cases, can be bought at half the usual price.  Whether it's money off deals, freebies or invitations to special events you need to think to think about what would give your customers the best value and make them feel special.