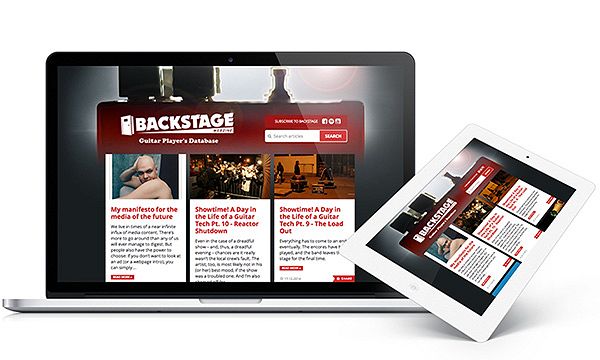 Finnish entrepreneur and co-owner of Helsinki's renowned guitar shop Custom Sounds Kimmo Aroluoma launched his own e-magazine, 'Backstage', as a way of boosting engagement with the guitar community and sharing his passion for music. He began writing and publishing content for the magazine back in 2013 and has gone on build a large and loyal fan base as a result.
Challenge
Aroluoma wanted a site that would give him the flexibility to publish a variety of forms of content. As regular blogger he wanted to create a new website that would stand out from the crowd and look more like a professional magazine rather than a e-commerce blog. He wanted to build a brand that people would recognise, something people would go to for advice and place they could trust. Plus he wanted to use the magazine to boost traffic to his Custom Sounds e-commerce site and as a way to enhance his organic SEO efforts.
Solution
Flockler built a responsively designed site that allowed Backstage Magazine to carry text, visual, audio and video content. It was build with embedded social sharing links and a comments section on each page. Flockler's mobile enabled technology allowed Aroluoma to create and publish content on the go, where ever he is. It has been designed to have streamlined navigation and clear links to the Custom Sounds e-commerce site.
Results
Since its inception Backstage Magazine has developed a loyal fan base.  The number of people reading and interacting with its content is growing all the time. The web traffic to the Custom Sounds e-commerce site doubled in the first year of launching the magazine which resulted in uplift in sales (the Flockler technology allows Aroluoma to track which articles are leading to sales). The magazine has helped to create a lot of positive energy in the Custom Sounds shop – with many fans popping by to compliment Aroluoma on his articles. He now receives hundreds more emails each week that he personally answers and people order more from him as a result. 
Read more from the blog: http://backstageblog.fi/