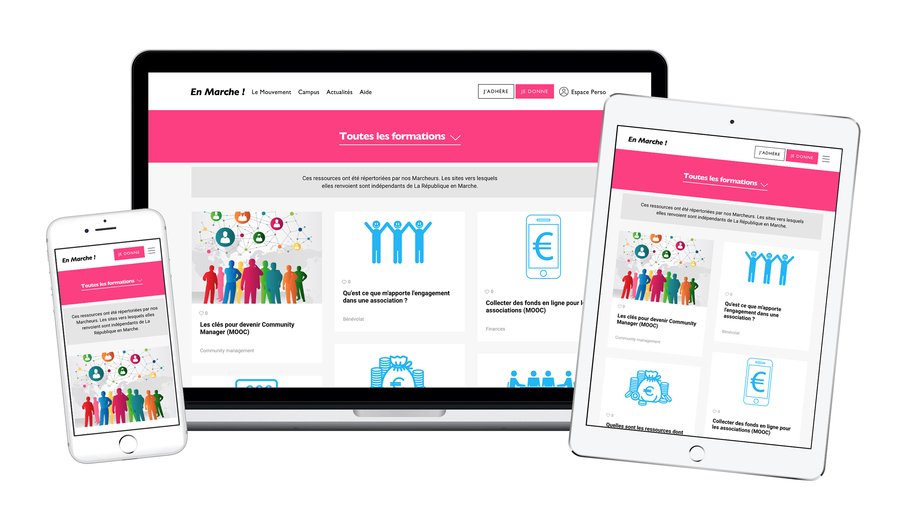 En Marche! is a French political party founded in 2016 by Emmanuel Macron with more than 380.000 members from all over France. The party, initiated by the newly elected French President's ideas, has managed to create a fast-growing community of deeply committed and engaged members in record-breaking time. En Marche!, with a majority in the government, reunites individuals from all political horizons and describes itself as the people's movement.
In October 2017, En Marche!'s communications team launched a new initiative, ''Campus''. The purpose of the initiative is to engage citizens and share tools to participate in the political decision-making processes. Flockler powers two campaign sites:
Flockler platform enables En Marche! to publish editorial content, as well as aggregate original 3rd party content (social media posts, online courses, YouTube videos, or blog articles published elsewhere on the web). The categorization of the content into various themes, such as finance, justice and administration, and entrepreneurship, helps the visitor to navigate between the topics of interest. Thanks to Flockler, En Marche!'s team can streamline content creation and curation process and gathers inspiring resources to stimulate engagement.
The Campus project provides an excellent example how political parties can use curated content as a part of their communications strategy. Social platforms offer a new medium for political organizations to reach out to people and build one-to-one, personalized relationships with both their existing and potential new members, and the social content can be effortlessly repurposed on the various content marketing sites with automated feeds and easy-to-use curation tools provided by Flockler platform.