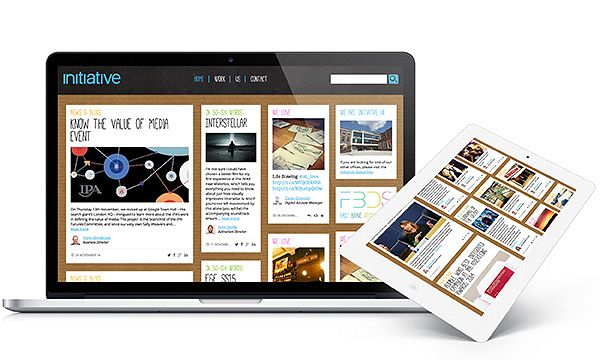 Initiative UK is a multi-media agency that specialises in media planning, media buying, brand strategy and communications. Its clients include the likes of Amazon, Continental Tyres and Travelodge among other high profile brands.
Challenge
Initiative is part of a wider global media agency which has offices in Europe, North America, South America, Asia and the Middle East. The global Initiative main website is static and not region-specific. The London team wanted a site that would give them a unique identity and a space that could carry their own content. They wanted a place that they could demonstrate their creativity and a home that would show off to potential clients their personality, the type of company they are as well as what their team were interested in – in work and beyond.
Solution
Flockler created a platform that enabled the Initiative team to showcase their work, use their social channels to contribute towards their content efforts as well as the space for them to create fresh content.  The site has a dual purpose; it enables Initiative to build a brand identity outside of the wider group as well as support its organic SEO efforts. Flockler designed a platform that would simplify the 'content creation' process for the busy, time-poor team. Instead of employees having to take time out to write long, wordy blog posts we created a platform that would aggregate all team's social media activities (that carried pre-programmed hashtags) onto one site. Now when the team are out at an event or doing something innovative with their clients they can simply Tweet, post images to Instagram or Facebook (or any social channel) and the short-form content is automatically carried on the Initiative.co.uk site.
Results
The UK office now has its own identity and ownership over its own content away from the global brand. This has empowered their employees and increased engagement within their team. Now, because of the simple and easy way to create effective and original content, their staff are no longer frightened of the blank blog page. Initiative site is an ongoing case study – it's living proof of how to take the silo of social (with all its separate channels) and bring it into the main. The team have been able to demonstrate to their clients how to create innovative and fresh content that is simple and not too time consuming to do. In fact they have loved the platform so much they have used it with one of their major clients, Travelodge, in a recent campaign. Flockler was used to create a digital guestbook, which aggregated tweets, photos, videos and customer reviews in one place, for the UK hotel brand.